ALVA'S INDEPENDENCE DAY -2016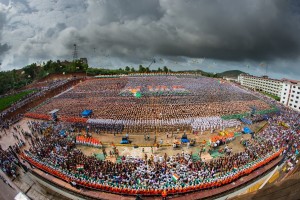 Alva's soak Independence Day fervor
Alva's Education foundation celebrated a grand Independence Day function at Vanajakshi K Sripathy Bhat Stage at Vivekananda Nagar, Puttige. Over 35000 audiences including students, staff, non teaching staffs and parents seen in an inimitable enthusiasm,exhibiting unity and strength and thereby paying a mass tribute to our country. More than 24000 Students came dressed in the tricolor and created a spectacular event to eyeballs. The cultural troop of Alva's college sung the ''Vandhe Matharam'' song prior to hoisting the national flag. The guest of honor The Bishop of Mangaluru, Aloysius Paul D'Souza unfurled the national flag. It was followed by integration song ''Koti Kantho se'' and students waved their flags and umbrellas in perfect synchronization. Later, students released 5000 helium balloons into air to commemorate the country's freedom. Troops denoting rich cultural heritage of coastal Karnataka and rest of the state took a centre stage in the program. Honnavara Band troupe added musical melody to the event.
Speaking on the occasion, the guest of honor The Bishop of Mangaluru, Aloysius Paul D'Souza , appreciating the service rendered by Mohan Alva to the education field, he opined real nation building is done here and told to continue his noble task.''This is the day not less than any festival, it is the day to cherish the memories of struggle of those who scarified their life for our country and to pay homage to them, and moreover we need to pledge ourselves to commit for justice, peace, harmony, prosperity, education and development'', he opined. Schools and colleges are better than churches and temples, because there we can see all groups of students, whichever religion they belong to, and he called upon the students to be united and show harmony in unity for nation building. Quoting American Former President John F Kennady's words, ''Ask not what your country can do for you, ask what you can do for your country', and said ''what can I do for my country is an apt question we need to ask ourselves first?'' He added and said, serving country in true terms, one need to cultivate following things, which includes, to keeping living places , roads, public places clean, planting trees and protecting environment, donating blood for needy, opposing corruption , helping civil authorities, protecting public properties, respecting and honoring all the peoples, especially women and girl children.
Putting across his dream about this country, he said, '' I need a country where poverty has been totally irradiated, illiteracy removed, crime against women and children is absent and no one in our country or society will feel alienated, to have nation where governance at all levels be transparent and corrupt free, proper education for each and every one and finally a country that is best place to live in peace and brotherhood.''.
The Alva's Education Foundation chairman, Dr M Mohan Alva felicitated KCET 2016 State Medical first from Alva's college, Ananth G with Rs 5 Lakh, shawl and Yakshagana headgear. Ashik Narayan and Daksha Jain who secured second spot in state in PU Commerce section also felicitated with shawl and memento and award with Rs 1 lakh each. Michelli Queenie D'Costa, who secured 387th rank in UPSC civil service exam 2015, was felicitated with Rs 25000 cash, Shawl and memento.
The cultural program was held throughout day followed by the celebration.
Former Minister K Abhaychandra Jain, Alva's Education Foundation Trustee Vivek Alva, Jayashri Amarnath Shetty, Vinay Alva were present among others.