M.Sc. – Physics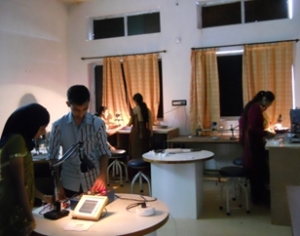 The department of Postgraduate studies in Physics was established in the year 2010, to fulfill the perceived need to impart high quality education through development of state of the Art curriculum in the field of Physics.
Objectives
To provide quality education and bring advanced knowledge among students.
To upgrade the knowledge of Practical Physics.
To motivate the students towards the research along with academic curricula.
To enhance the professional life of the students and develop their personality to meet the challenges.
To be true to the aphorism "Innovate or perish, invent and cherish."
To train the students to be lifelong learners in an ever-changing saga of new skills and competencies.
Courses offered
Duration
Two years (Full Time)
Eligibility
The candidates who have passed the three year B.Sc. degree examination of Mangalore University or any other University considered as equivalent thereto with Physics as major / optional / special subject are eligible for the programme provided they have studied Mathematics as major / optional / special / minor / subsidiary subject for at least two years and secured a minimum of 45% (40% for SC /ST /Category-I candidates) marks in Physics / Mathematics.
Specializations offered:
Our department offers the following subjects for the students as specialization during the second year of M.Sc.  course.
Condensed Matter Physics .
Nuclear Physics .
Highlights of the Department:
1) Coaching for competitive exams in Physical sciences (CSIR-NET/ GATE/ JEST etc.)
2) Certificate Courses offered:     Teaching Methodology, Research Methodology, LATEX.
3) Research exposure to students through summer research, student project and study tours.
4) Regular seminars, workshops and guest lectures.
Achievements :
Bagged Mangalore University I rank in M.Sc. examinations during the academic year 2013-14 & II rank during 2014-15.
SPiCE project was sanctioned to the department from VGST.
100% placement in teaching and research fields.
Infrastructure :
State of art laboratories.
e-learning Enhanced Departmental and College library.