Guest Talk by Professor Dr BA Kumar Hegde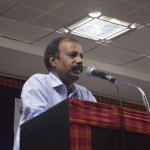 Moodbidire: A clean and healthy environment is part and parcel of the wealth and quality of life that we desire for ourselves now and for our children in the future, said SDM College, Ujire, Botony Department Head Dr B A Kumar Hegde.
He was speaking after planting a sapling in a Guest Talk on 'Conservation of Natural resources- the key for Ecosystem Sustainbility', organized by Alva's College department UG studies in Botany, on Wednesday, at Kuvempu Hall, Vidyagiri.
'Earth is warming like never before. Countries around the world witness extreme climate conditions and consequent dangers to life and livelihood after industrial revolution started in European countries. Hence it is high time to protect our environment, and students should involve themselves in environmental protection activities', he added.  Later he shed light on Mahadayi and Cauvery issues related environmental crisis.  'Achievements are milestones in one's path of success and it comes only with hard work, dedication and concentration', professor added.
Alva's College Principal Prof Kurian was present in the occasion. Third Year BSc student Hyfa compered the program and First year BSc student Adarsh proposed vote of thanks.