Guest Lecture on ''Use of Technology in HR and Managing Organisational Change''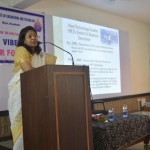 Moodbidire:
Successful organisational management strategy includes agreement on a common vision said, Saumya Chandraker, Senior Manager (HR), MRPL, Mangalore.
VIBES- the HR Forum of Department of Business Administration at Alva's Institute of Engineering and Technology, Mijar had organised a guest lecture on "Use of Technology in HR and Managing Organisational Change" on 15th September 2016.
Speaking on the occasion, the resource person Mrs. Saumya Chandraker mentioned that technology is playing a major role in HR today. Technology is also being used for talent search, master data maintenance, employee life cycle management, real time talent assessment and other related fields.
Technology is a wonderful tool for recruitment, training and development, performance management, virtual man power and data storage.
She emphasized that technology has brought in a paradigm shift in HR by making the system entirely transparent. The main goal of technology is transforming disintegrated departments into Strategic Business Units with embedded HR system.
The Dean of MBA department, Prof. P. Ramakrishna Chadaga also spoke on the occasion. He stressed on the importance of updating oneself in the Dynamic world. Programme co-ordinator Gurudatt Somayaji was present.