Guest Lecture on 'GST-it's Consequences on Indian Economy'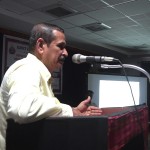 Moodbidire: "GST will be the biggest taxation reforms to be take place in India, which will make India one unified common market said, Prof. Shripathy Kalluraya. P, Finance Officer, Mangalagangothri, Mangalore University.
He was speaking at a guest lecture on 'GST-it's Consequences on Indian Economy' organized by the Department of Post Graduate and Under-graduate Studies in Economics, on Thursday, at Kuvempu Seminar Hall.
In the existing Non-GST system, there is a cascading burden of 'tax on tax', as there are no set-offs for taxes paid on inputs or on previous purchases. But in GST, credits of input taxes paid at each stage will be available in subsequence stage of value addition, which makes GST essentially a tax only on value addition at each level, he added.  Moreover, the final consumer will bear only GST charged by the last dealer in the supply chain, with set-off benefits at all the previous stages. Hence, tax money will be used for the betterment of people with very modest resources, he noted.
Alva's college Principal Prof.Kurian who presided over the function said "the youth need to be aware of taxation policy of the country in order to sustain the economic harmony of the nation."
Alva's PG Studies in Economics Head Ravindra was present