Cartooning workshop conducted at Alva's College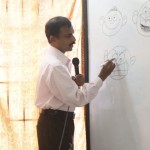 Moodbidire: Post graduate department of journalism, Alva's College, Moodubidire conducted one day cartooning workshop recently.
Speaking on the occasion, resource person, eminent cartoonist, Dinesh Kukkujadka said, "Cartoon is not just a picture or drawing, it is a piece of intellectuality. A good cartoon comes out when creativity and intellectuality clubbed together. Editorial cartoonist plays a major role in today's world."
Head, Dr. Moulya Jeevanram and faculties of the department were present. Students from PG Journalism, BVA and cartoon club members from Alva's Institute of Engineering and Management were participated in the workshop.