Film festival inaugurated at Alva's college, Moodbidire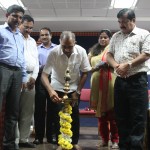 Moodbidire: Cinema enlarges the frontiers of one's knowledge. Apart from its recreative value, the cinema has great educative value said, Legislator K Abhay Chandra Jain. He was speaking after inaugurating three days film festival and screening films selected at Bombay International film Festival  jointly organized by Central Film Division Bengaluru, Information and Publicity Department Mangaluru, Alva's Education Foundation and its Department of  PG Studies in Mass Communication and Journalism at Kuvempu Theatre,on Saturday in Vidyagiri.
The films shown in cinemas are often very instructive and informative. We can see as well as know the culture, dress, language and customs of different continents through watching cinemas, he added. 'In olden days people used to watch cinemas in tent talkies and had limited option to access the movies. But present generation are in privileged position to watch cinemas in multiplexes and modern set ups', he noted.
Chief guest Documentary Film Maker Sarswathy Saliyan said, Documentary film is a broad category of visual expression that is based on the attempt to 'document' the realities. She added and said story telling is very challenging task in documentary film making.  There are many subjects around it and it is very important to present it an interesting way.
 Presiding over the function Alva's Education Foundation Chairman Dr M Mohan Alva said, most of the films produced nowadays have little social content. They depict a lot of violence, robbery, theft, cheating which excite the young minds and make them to follow it in their lives.  It must be admitted that few educative films can benefit a lot to students in their studies, he noted.
Inaugural function was followed by screening of Agli Baar, Placebo, The queen of silence and 18 feet movies held.
Deputy Director General Film Division Bengaluru V S Nagarajan, DK Information Officer BA Khader Shah,  Alva's College Principal Prof Kurian, Alva's PG Studies Journalism Dept Head Dr Moulya Jeevanram were present among others.